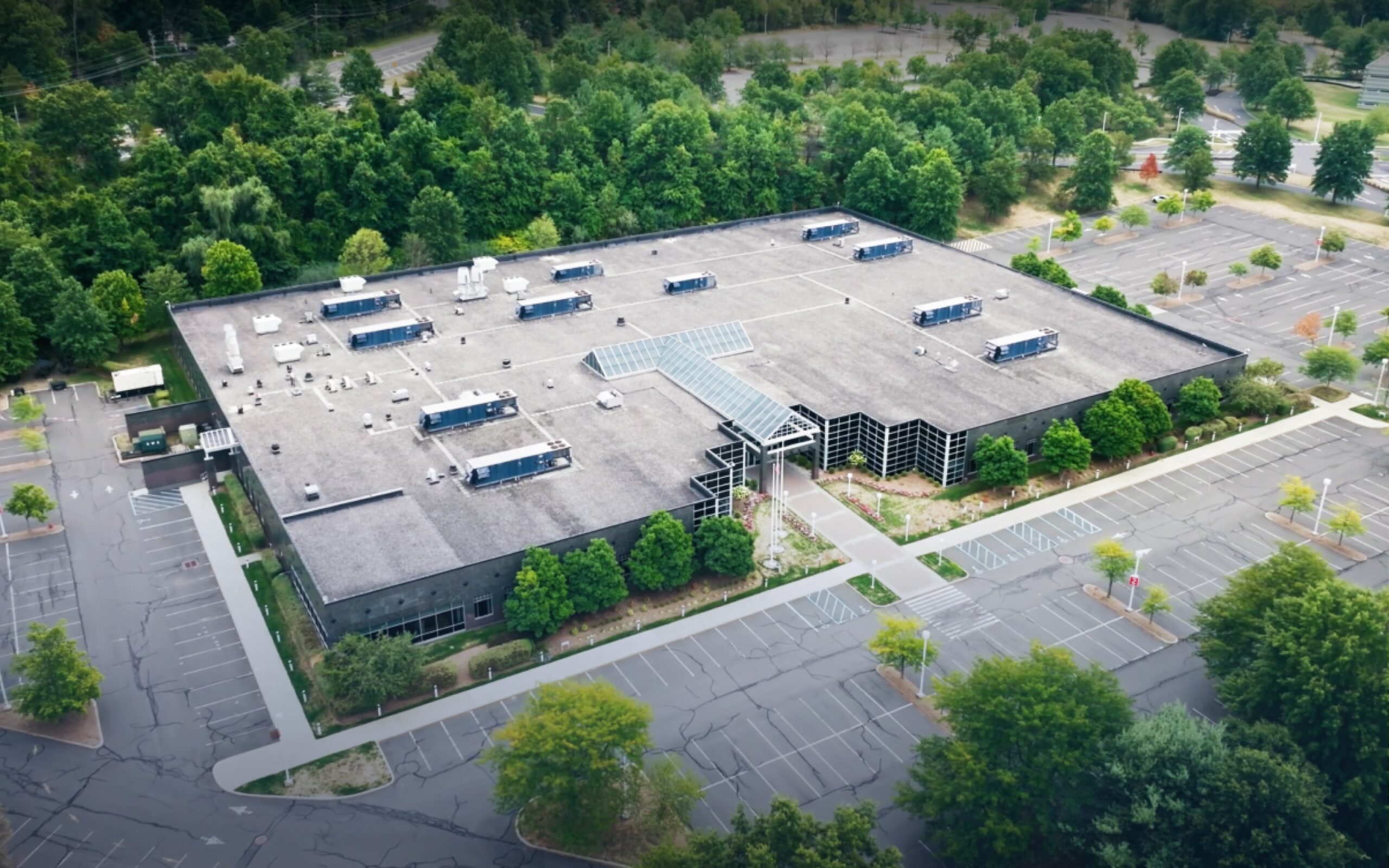 The First Integrated Development & Manufacturing Organization
118,000 ft²

Smart Factory space

>40k

Capacity in batches per year

(based on a 7 day autologous process)

Only 6 months

Time to tech transfer

"Mass manufacturing personalized living drugs needs a totally new approach."
CMO CDMO IDMO
IDMOs Overcome the Limitations of Conventional CDMOs
VERTICAL INTEGRATION
Technology & Services
Smart Factories
Mass Customization
TECHNOLOGY INTEGRATION
Hardware Integration
Software Integration
Data Integration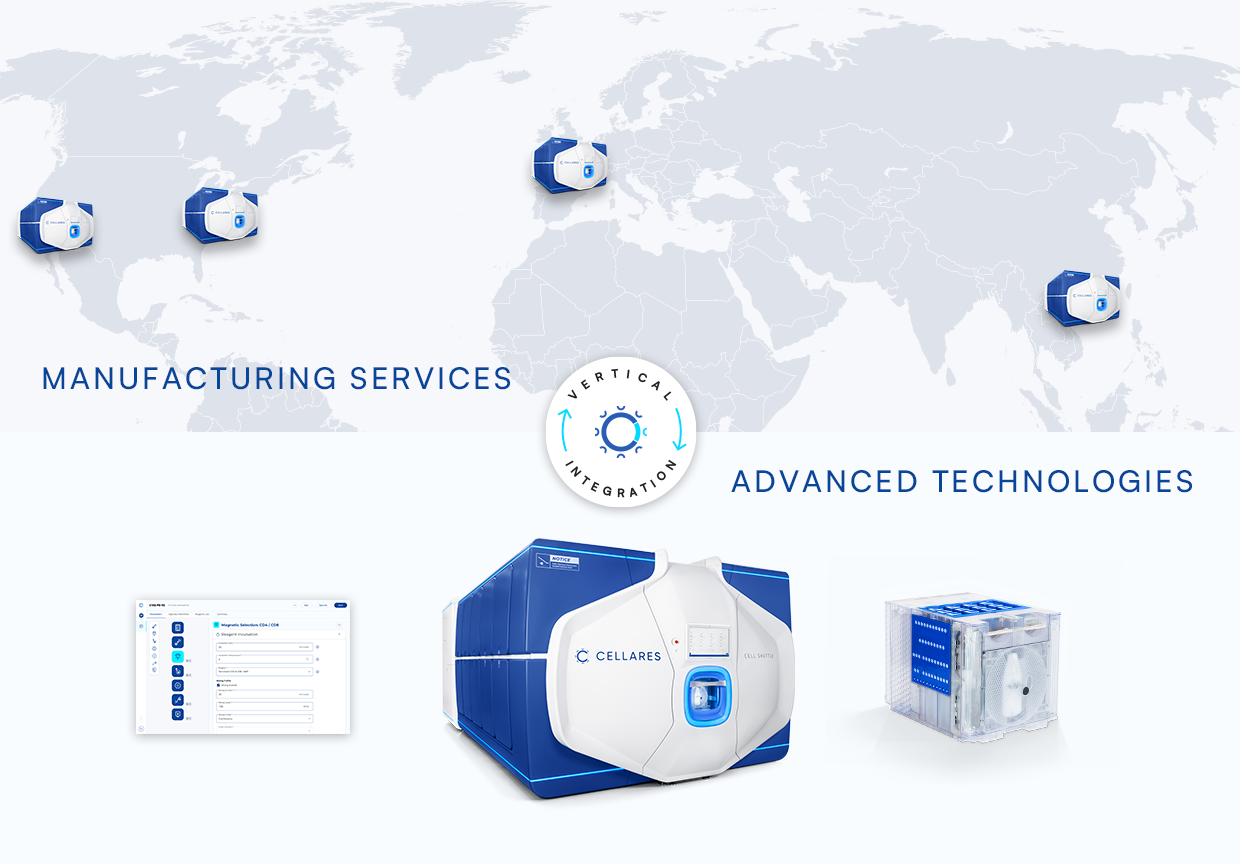 Integrated Development and Manufacturing Organizations (IDMOs) offer highly integrated and advanced technologies as the key element of a vertically integrated business model, which includes global manufacturing services.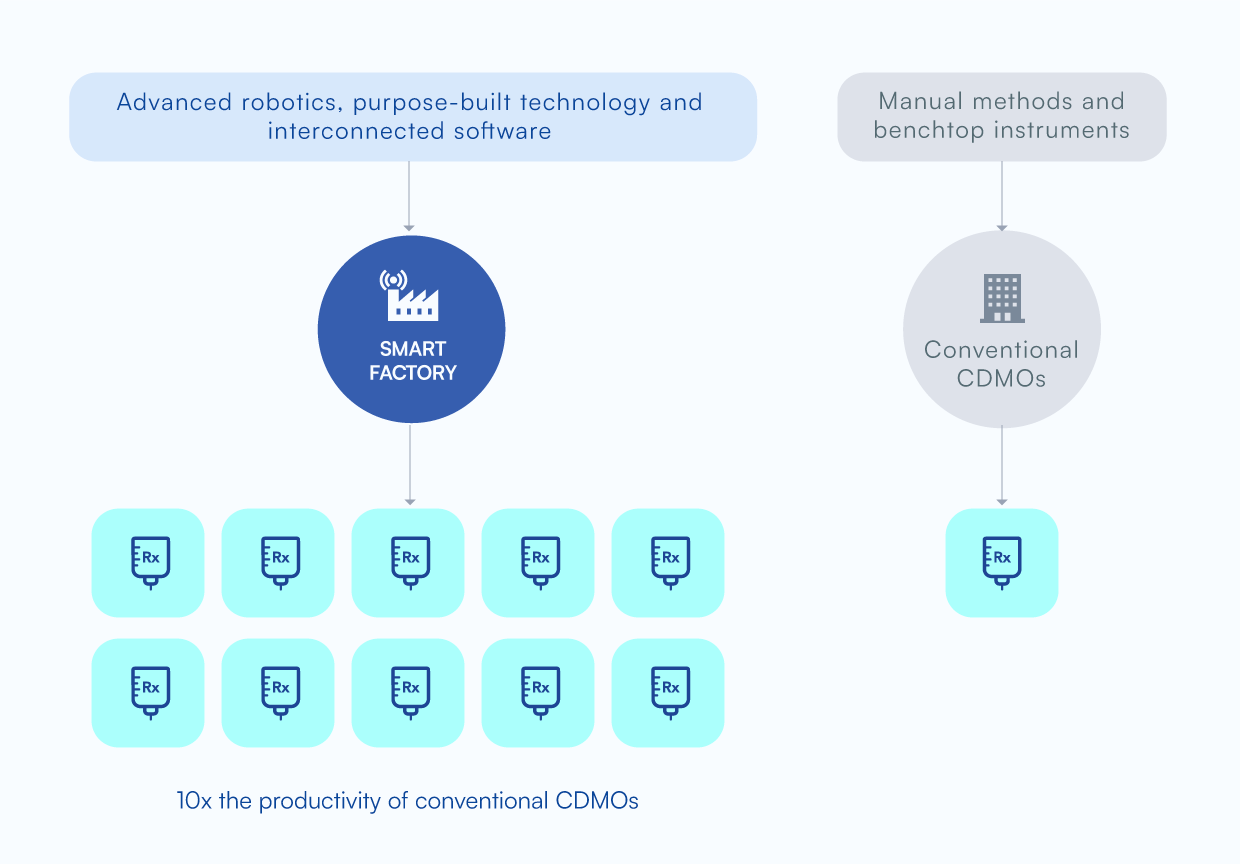 By leveraging integrated technologies, IDMO Smart Factories can produce 10 times more cell therapy batches per year, with the same footprint and the same workforce as conventional CDMO facilities.
Cellares' Smart Factories will be deployed around the world to enable the cell therapy industry to meet global patient demand.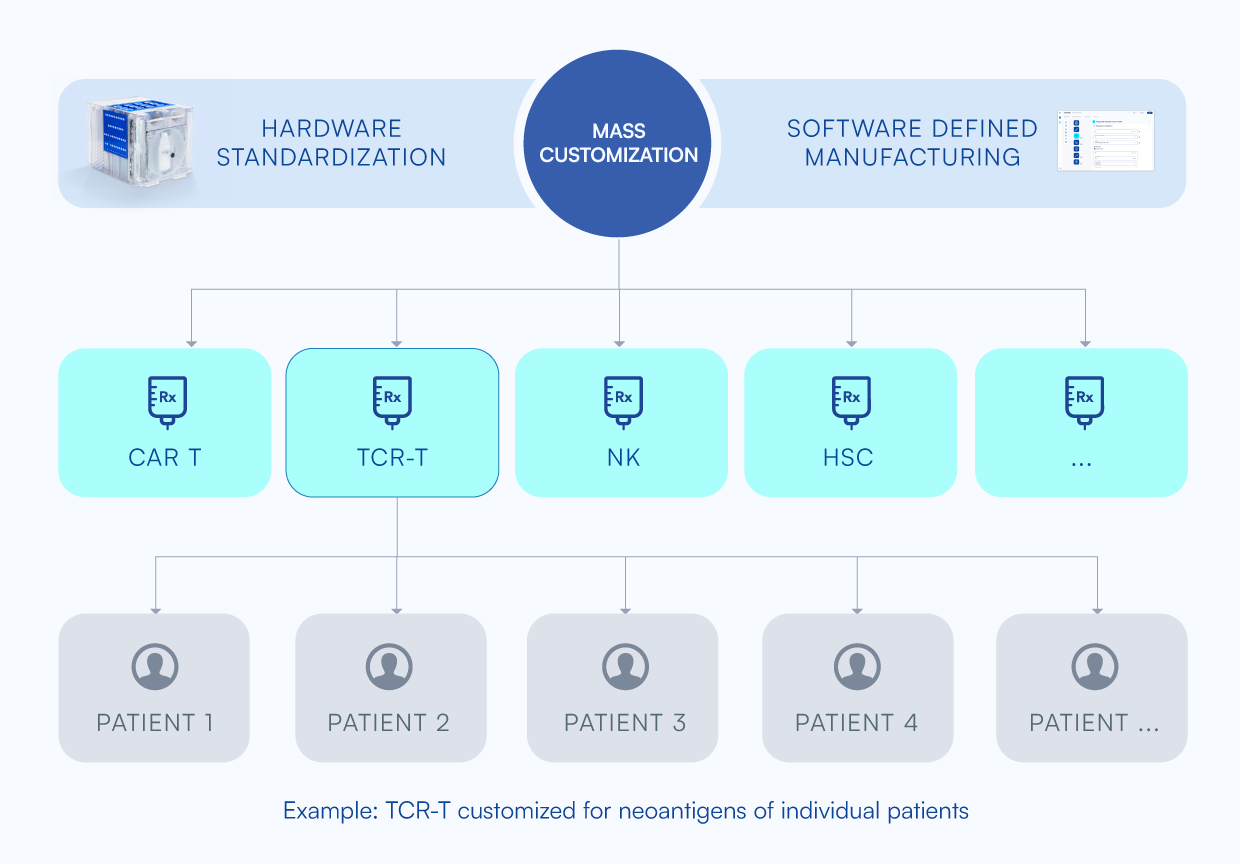 IDMOs leverage hardware standardization, Software-Defined Manufacturing (SDM), and a high degree of automation to enable mass customization. This is a key capability for the mass manufacturing of personalized cell therapies.
As SOPs (Standard Operating Procedures) are replaced with SDM (Software-Defined Manufacturing), tech transfer is dramatically simplified and training requirements are reduced.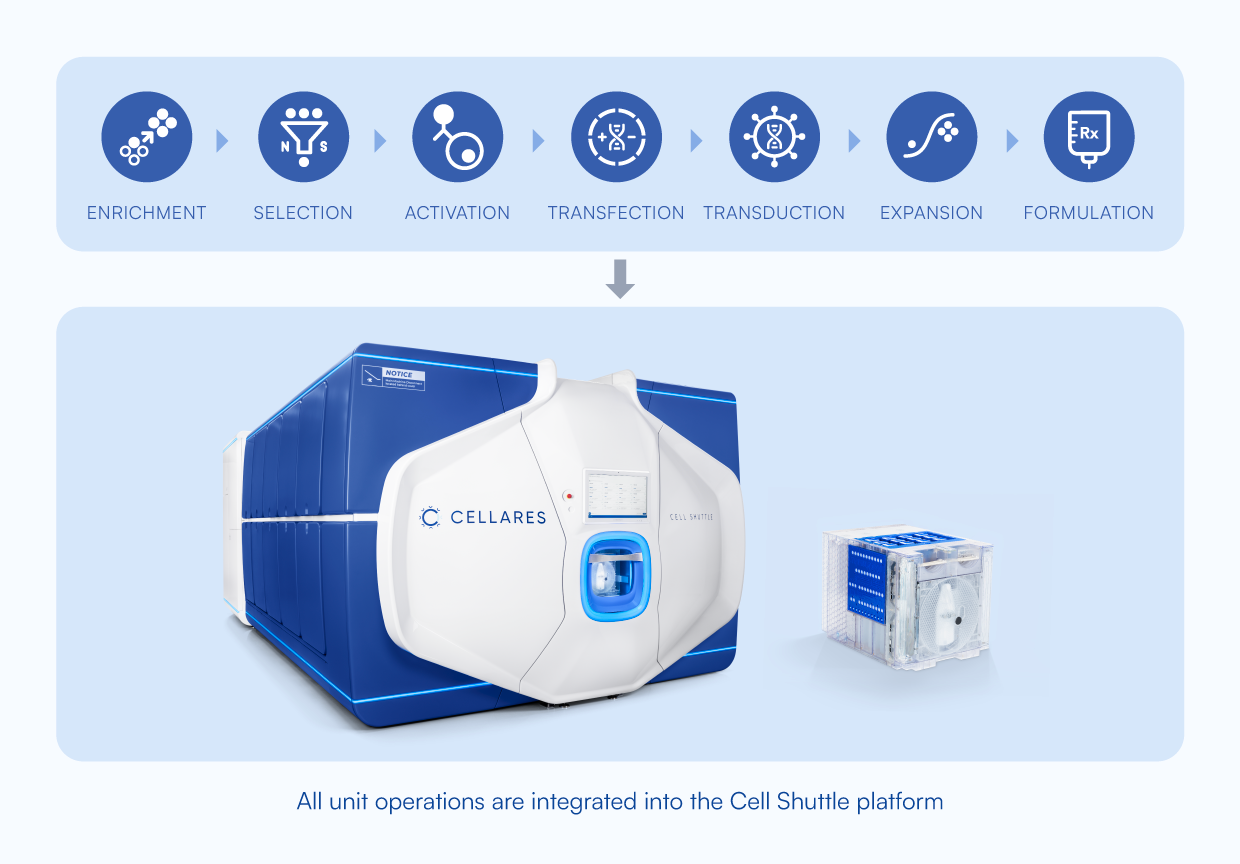 The Cell Shuttle platform integrates technologies for all unit operations in a fully closed, automated and high-throughput system. It's functionally equivalent to ~100 benchtop instruments.
Software-defined manufacturing (SDM) and hardware standardization enable instant tech transfer from one Cell Shuttle to any other Cell Shuttle in any other Smart Factory anywhere in the world.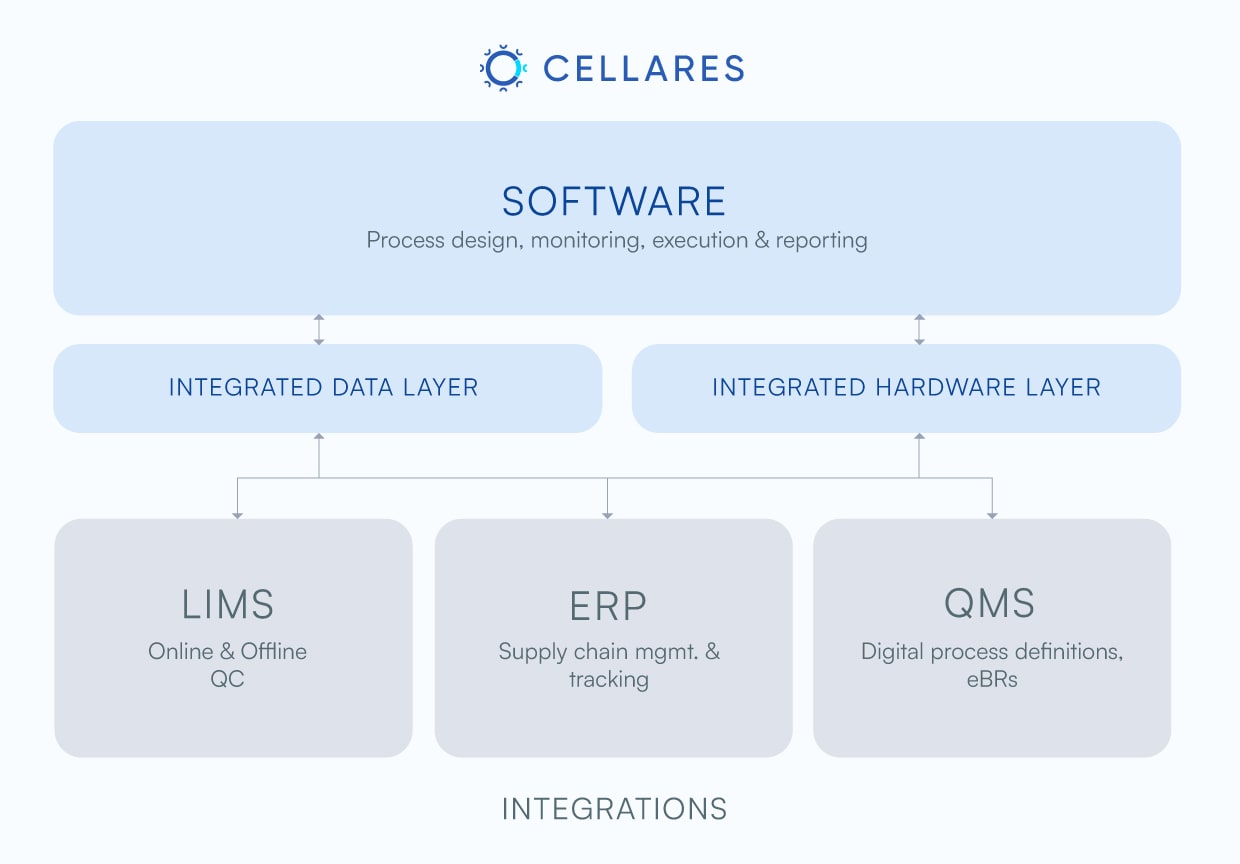 IDMOs seamlessly interconnect software systems (MES, LIMS, ERP, QMS) with the integrated hardware for manufacturing and QC to create an integrated data stack.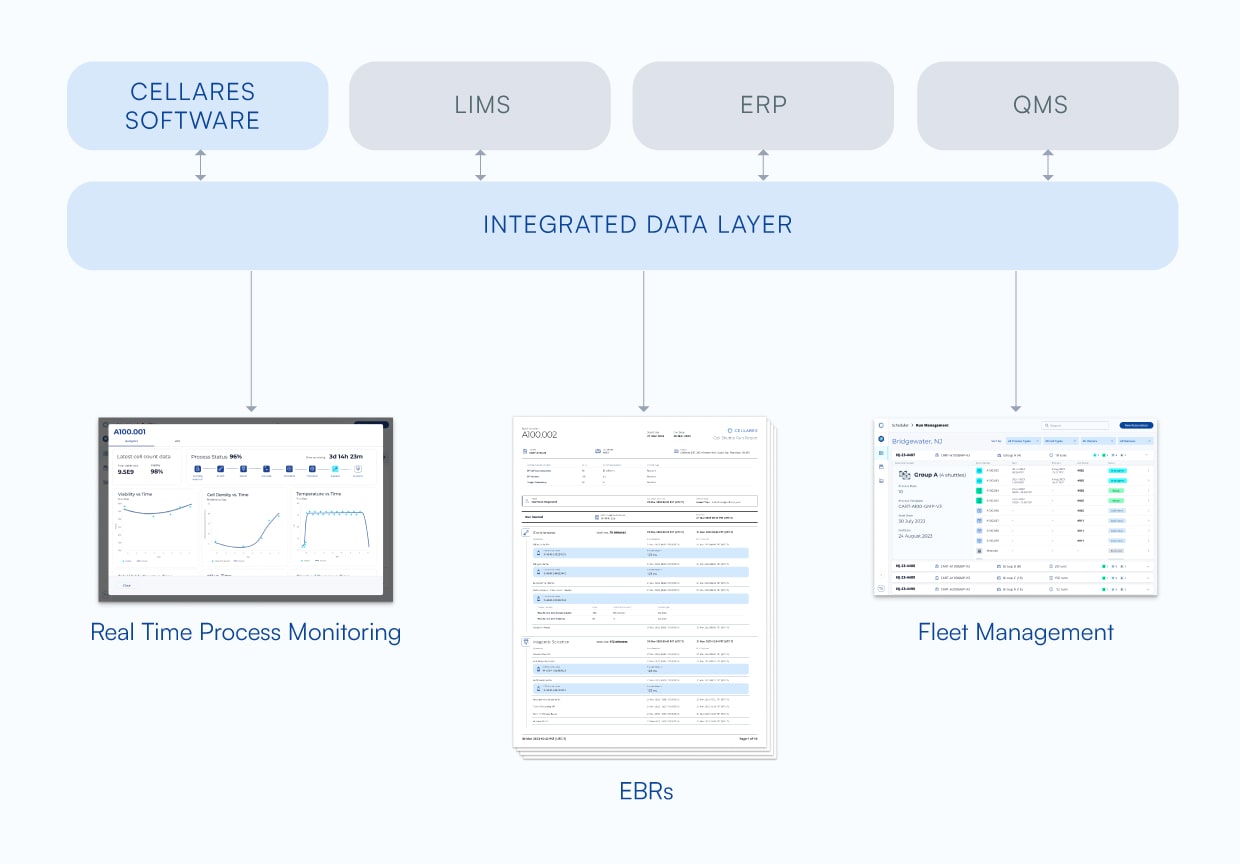 Data integration enables auto-generation of electronic batch records (EBRs), supply chain management, and big data mining applications.
VERTICAL INTEGRATION
Technology & Services
Smart Factories
Mass Customization
TECHNOLOGY INTEGRATION
Hardware Integration
Software Integration
Data Integration

"The therapeutic industry needs a scalable and cost-effective system to remain competitive and to grow operations for patients. The Cell Shuttle is the integrated development and manufacturing solution that will make this happen."
Capabilities
IDMO Services
Technology Adoption Program (TAP)

TAP is a fast and low-risk opportunity to automate and transfer your process onto the Cell Shuttle

Cell Therapy Process Development (PD)

Utilize Cellares IDMO to optimize and automate your cell therapy process. Leverage the standardized Cell Shuttle templates to accelerate PD for early-stage processes

Analytical Development (AD)

Utilize Cellares' automated and integrated analytical platform for reliable in-process and final product characterization

Clinical & Commercial cGMP Manufacturing

Utilize Cellares global network of IDMO Smart Factories to address total patient demand across all drug development and commercialization phases

Quality Assurance / Quality Control Services

World-class Quality organization with decades of combined cell therapy experience that provides products meeting global cGMP requirements with the highest level of quality

Regulatory Support

Regulatory experts support CMC data package generation for successful regulatory filings and amendments
IDMO ADVANTAGE
Choosing Cellares Means Choosing the IDMO Advantage